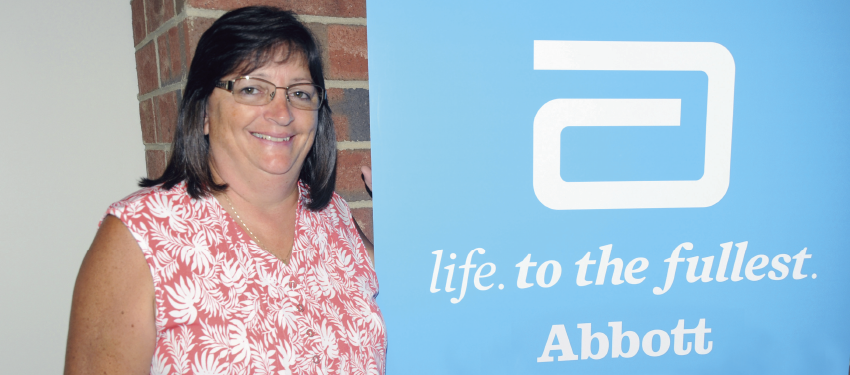 Mentoring Propels Tri-County Technical College Graduate to New Career
Beverly Sweet, a weekend shift production supervisor at Abbott Laboratories in Liberty, South Carolina, says she would not have her career if it weren't for mentors, both in the classroom and in the workplace, who encouraged her to go for and complete her college degree at age 41.
"I'd always thought about college since graduating from high school but there were always roadblocks," said Beverly, who had a 20-year career in the textile industry — one she thought would last until retirement — but ended with a plant closure in 2003.
Beverly had to start over and began applying for jobs. She soon landed a part-time job at Abbott (then St. Jude Medical in Pickens). Abbott is a global company that manufactures a variety of medical products and devices. At the Liberty site, the company manufactures components for life-saving Cardiac Arrhythmia and Heart Failure devices.
Within six months, the part-time work turned into a full-time production job. Her then-production manager noticed an aptitude in Beverly and encouraged her to pursue a degree at Tri-County Technical College.
"It's easy to talk yourself out of something if you don't have encouragement. But she helped me to see I could do it," said Beverly.
Beverly returned to college in 2007 to pursue a General Engineering Technology degree — 23 years after graduating from high school.
"I was excited and scared. Once I got started, I had fun building projects and applying the knowledge. My instructor and dean at the college were a huge part of my success. I connected with them, just as I did my production manager, and they served as mentors for me," she said.
It took Beverly five years to complete her degree because she was a part-time student taking evening and online classes. During her last semester, she took four classes in addition to working full time. Beverly made the President's List and graduated with honors and debt free, thanks to Abbott's tuition reimbursement program and lottery tuition assistance.
Over the years, Beverly advanced from team coordinator at Abbot to production technician to senior production technician. In 2013, she was promoted to weekend shift production supervisor. She now supervises four departments totaling 45 people on Friday, Saturday and Sunday from 6 a.m. to 6 p.m.
"This is the best job I have ever had. It's always different. That's why I love my job so much. It's never boring. But I couldn't do it without the degree from Tri-County Technical College."
Learn more: www.tctc.edu

Preparing High School Students for Manufacturing Careers
Several weeks before they even graduated high school, Jacob Shaw and Bryant Newsome completed Technical Operator certificates I and II from Tri-County Technical College (TCTC). Through the Technical Career Pathways program, they then entered TCTC's summer school as sophomores with less than a year left to earn their associate degrees.
Shaw, a Belton-Honea Path High School graduate, and Newsome, a Palmetto High School graduate, both have their sights set on working in manufacturing after they complete their degrees. With the skills they earn in the Industrial Electronics Technology and Mechatronics programs, they are well on their way.
All totaled, five Anderson County 18-year-olds received Technical Operator certificates and became TCTC sophomores in the Industrial Electronics Technology and Mechatronics programs before they even marched in their high school graduations.
Over 100 high school students are enrolled in the Technical Career Pathways programs in all seven school districts in the college's service area. This program serves students who might have considered college beyond their reach. The vast majority continue after high school graduation to earn an associate degree in a technical field that will prepare them for highly-skilled careers in the area.

Colgate-Palmolive Launches Apprenticeship Program
To further standardize their employee training plan, strengthen worker skills and support retention, Colgate-Palmolive officials in Greenwood signed an agreement with Piedmont Technical College (PTC) and Apprenticeship Carolina™ to roll out a registered apprenticeship program for their maintenance employees. Sixty Colgate employees signed up for the program, and interviews now are underway to determine the first 10-12 candidates to enter the program this fall.
The selected apprentices will complete PTC's Mechatronics I course. Mechatronics combines the terms "mechanical" and "electronics" as they apply to engineering and computer science fields. Employees trained in mechatronics can help develop and operate intelligent or "smart" electromechanical systems. In the manufacturing environment, examples include programmable robots and machine tools with auto-adapting functions.
As an incentive to participate in the program, Colgate — and other qualifying companies — can receive a tax credit equivalent to $1,000 per year per apprentice to offset any costs associated with establishing the registered apprenticeship program. For more information on apprenticeship, visit the Apprenticeship Carolina website at www.apprenticeshipcarolina.com.
Learn more: www.ptc.edu

Midlands Technical College Offers Training and Space
Every year, Midlands Technical College (MTC) expertly trains hundreds of students to excel in pharmaceutical and other manufacturing sectors in the Midlands. Alongside instructors with real-world experience and using the latest equipment, students train in production, mechanical and electrical maintenance, safety and quality, mechatronics, machine tool technology, welding and forklift. Local manufacturers also work with MTC to sharpen skills in areas like leadership, project management, supply-chain management, technical and business writing, and customer service.
Manufacturers recruit and hire many MTC students immediately upon graduation. Some manufacturers such as Michelin and Nephron Pharmaceuticals rely on apprenticeships to identify new talent, assist with tuition, and educate these students for high-demand careers in their organizations.
The MTC Enterprise Campus, located in Northeast Columbia, is open for business for new tenants that desire a close relationship with MTC's students and state-of-the-art technology. One business, DPX Technologies, LLC, manufactures medical pipettes. Since locating within MTC's Business Accelerator, DPX Technologies has hired MTC students to help grow the business. Another pharmaceutical manufacturing company, The Ritedose Company, recently made a significant investment by constructing a new 153,000-square-foot facility at the Enterprise Campus industrial park.
Learn more: www.midlandstech.edu

Training Pharmacy Technicans for High-Demand Jobs
The Pharmacy Technician Certification Program at Central Carolina Technical College (CCTC) is a
two-semester, accredited academic training program that prepares students with the knowledge and skills to become a pharmacy technician. Students will receive instruction in both didactic and simulation settings, under the supervision of practicing professionals in small classroom settings. Additionally, students will receive hands-on clinical experience in a variety of actual pharmacy settings.
Pharmacy technicians are in high demand in the pharmaceutical and health care industries. Job opportunities exceed the national average growth rate, especially for those with previous experience, formal training or certification, according to the U.S. Department of Labor.
As allied health professionals, pharmacy technicians work under the supervision of registered pharmacists and assist in the preparation, assembly and dispensing of medications. Pharmacy technicians can be found in hospital, compounding, mail-order, community and long-term care pharmacies, as well as in pharmaceutical manufacturing.
Learn more: www.cctc.edu

Spartanburg Community College Pharmacy Technican Program
The Pharmacy Technician Program at Spartanburg Community College (SCC) trains students in medication preparation, dosage calculations, non-sterile compounding, sterile compounding and aseptic technique, patient information maintenance, inventory, quality control and more. Students also build proficiencies in pharmacy processes and procedures such as procuring, manipulating and preparing drugs for dispensing. They will be able to perform multiple essential functions in various areas of pharmacy practice under the supervision of a licensed pharmacist.
Each August and January, 15 students are accepted into the SCC Pharmacy Technician Program, which is a full-time, three-consecutive semester, day program. The first and second semesters include a wide range of hands-on lab simulations. The third semester allows students to gain clinical experience in local affiliated pharmacies such as hospitals, retail, long-term care, non-sterile compounding, nuclear and home infusion.
The SCC Pharmacy Technician Program is accredited by the ASHP (American Society of Health-System Pharmacists) and ACPE (Accreditation Council for Pharmacy Education).
Coursework includes classroom, laboratory and clinical components such as:
• Pharmacy Practice
• Medication Preparation
• Dosage Calculations
• Pharmacology
• Non-sterile compounding
• Pharmacy Law and Ethics
• Sterile Compounding & Aseptic Technique
Learn more: www.sccsc.edu/pharm/